By: Seamus Fay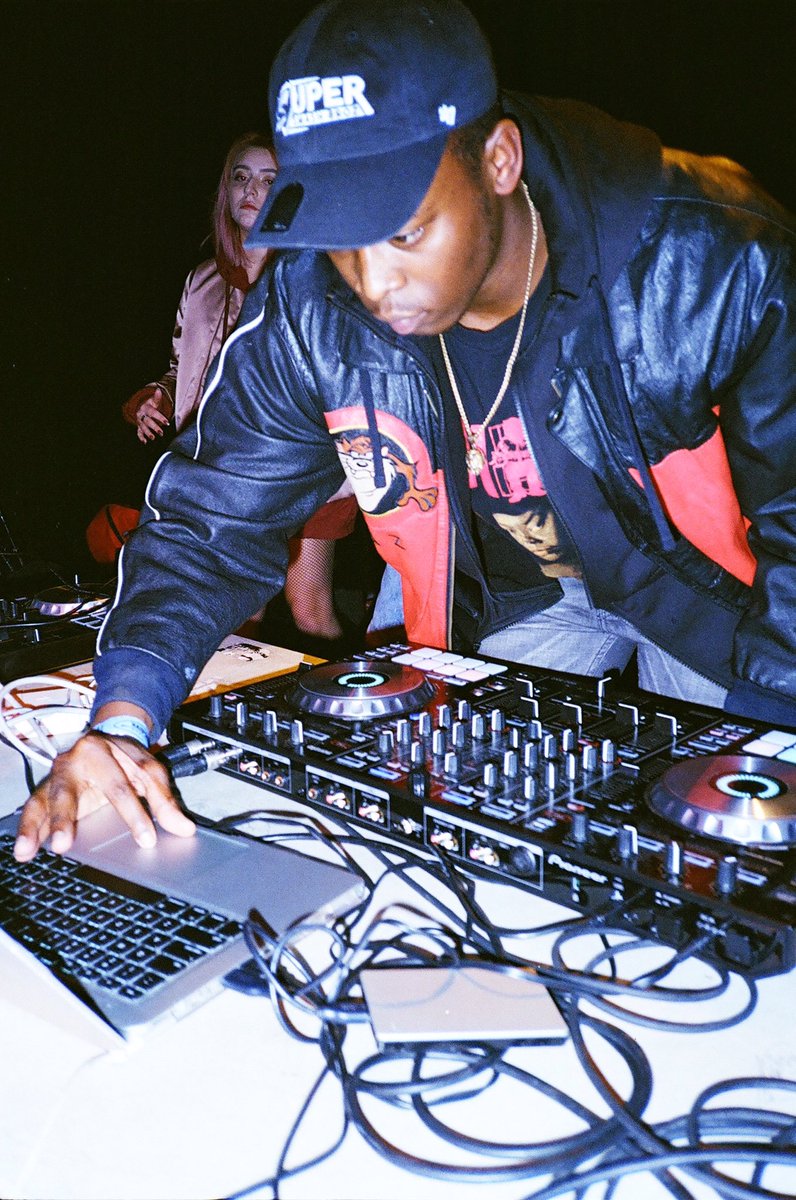 ---
DJ Fre$co is one-half of the SuperSmashBroz and Michael Christmas's personal DJ, determined to get your vibes right and spread his message all over Boston and beyond. His unbelievable energy keeps audiences entertained, and his ability to adjust his set to fit a crowd is a skill guaranteed to help him go far. Fre$co has extensive touring experience and has DJed plenty of popular events, but this is only the beginning for him. The SuperSmashBroz clothing line is also just starting out according to the two brothers, although they have already sold out several limited runs and will surely do more in the upcoming year. I was lucky enough to interview Fre$co about topics such as his childhood, touring, the events he has done, what's to come, and more. You can read it below.
---
Where are you originally from?
I'm from Boston, MA. Born and raised in Roxbury – my family is from Nigeria, though. Naija Boy.
How did your family find themselves in Roxbury?
Well, my parents moved here from Nigeria in their early 20s in search of better opportunities… they moved to Boston, first to Hyde Park, then settled in Roxbury. They had me after about a year of living in Roxbury.
What was your childhood like living in and around the city? What kind of things were you interested in as a kid?
My childhood was fun, man. I grew up around the hood, so that opened my eyes up a lot. Shoutout METCO though, I went to school in Lexington so I really got a taste of both worlds, the inner city and the burbs. As a kid, I honestly was a sports fanatic, loved music (played the drums growing up), and liked to read a lot.
What sports were you playing at the time and how did music find its way into your life? Did your parents have any influence on the music you were listening to?
I played basketball and baseball. Music was always around me, though. My parents and family would have small dance battles and whatnot. I grew up listening to a lot of hip-hop, soukous, afro beats, and soul music. My parents definitely had an effect on what I listened to. My dad is probably my biggest influence as to how I started even DJing. He used to DJ back in the day, but really as a side hustle.
Did you ever think you would DJ when you grew up? Also, how did your dad start DJing?
I was always a pretty smart kid, so I honestly thought I would be some type of doctor or banker if I didn't go to the league, lol. DJing just kind of came naturally. My dad always loved music and he just did it as a side hustle when he moved to Boston to make some ends meet.
I feel you. When did you start to connect with other kids who were into music and putting sets together? Also, how did you meet Christmas and some of the other people that play a role in your career today? Did you and Nomz always connect well creatively?
I'd say I met a few of these kids in Boston's bubbling art scene about 3-5 years ago. I've been DJing for like 5 years now, and I just started taking it serious almost 2 years ago. I met Christmas about 3 years ago. We actually played a show together when I was pretty wack at DJing and he wasn't that good of a rapper. That was a coincidence, as I just happened to have to do his set at the show. Fast forward two years and Christmas asked me to be his DJ. Crazy how things played out. And yes, Nomz and I have a good creative bond. He knows me better than anyone, so it's just like certain things don't even have to be said, feel me? He just gets it. Natural synergy.
So when you first started DJing, was it an instant connection with you that you wanted to do this for other artists? Or did you the success that you saw push you harder and make you realize that it was what you wanted to do?
Nah, it was a fun hobby to me at first. Then I joined a DJ group, but I was kind of in the background. That opened my eyes because I felt like I was good enough to be out there front and center DJing, but lost confidence and felt held back. So I just broke off and decided to do it with my brother and actually take it seriously. 2 years later, here we are. I'm motivated and I know this my calling.
Was Nomz in the group, too? And did he feel the same way about wanting to break out and be on stage as the star doing his own set without the group?
Nomz wasn't officially in the group, but was always around. And yeah, we just honestly got to a point where it was like – we know we can do it – no need for talking, anymore, let's just start getting the vibes right.
How did you go about deciding to make your own group with Nomz? Did you immediately get to work making mixes together or was it a matter of trying to get shows first?
As for SuperSmashBroz, we wanted to start doing some parties together. We started building a little buzz in the city so we felt a mix would help add to it. From there, "Get Your Vibes Right Vol. 1" was created.
How long did it take to really get recognized as the people DJing some of the local parties?
Honestly not too long. Like I said, before even officially dubbing ourselves the SuperSmashBroz, we were already throwing bangers. Shoutout my Yurps, YurpFest parties were really epic back in like 2013-2014. Once we started taking DJing more seriously, it probably took 6-9 months before we truly started getting recognized as some of the best young DJs in the city. The turnouts for the YurpFests were always nuts. To this day, I still meet people who I come to find out were at those parties. Shout out to my homie Raina, waddup Burgs!
Where were they held?
Usually house parties, a couple were in a mansion. I think those definitely helped put me on the map. I was DJing those – wish we captured all those moments on video, cuz those were epic.
Are there any videos of them on YouTube? And at that time how were you guys spreading the word about the parties to get good attendance?
Here is a video. We were just doing it by Twitter and word of mouth.
That looks too hype. How did you get access to the mansion?
It was a friend's crib.
Oh, gotcha. Have you done any parties like that lately?
Nah we're moving in a different direction right now. Timing is everything with those parties.
I feel you. How do you and Nomz go about putting a set together? What are some classics for you guys that are always guaranteed to get the crowd going?
To be honest, Nomz and I rarely ever put together a set. Like very rarely. I feel like it's best when we vibe out spontaneously, mainly because you never fully know a crowd until you're right in front of them. Not enough DJs play for the crowd, but instead just play what they or their friends want to hear. As for classics, it always depends on the type of genre/crowd we're playing for. But 3 songs that I feel like always go up are: "Can't Tell Me Nothing" by Kanye West, "Turn My Swag On" by Soulja Boy, and maybe "Ride Wit Me" by Nelly.
Definitely, man. That seems like a much better way to DJ, by reading the crowd because that's guaranteed to get the best reaction over playing a predetermined set. Do you see a special reaction when you play Stizz, Christmas, or other Boston artists when you're DJing Boston shows?
Sometimes. But honestly, I don't think it's about getting a special reaction – it's more so about getting the same reaction as any other top level artists. There was a point in time when people would look at you crazy for playing Boston music at a function. Glad we're past that.
Very true. Boston finally has a lot to be proud of. It's an extremely exciting time for the city.
Most definitely, it's exciting to see both the homies and other artists from Boston start to make waves in the city and beyond.
What does it mean to you having the opportunity to travel across the country with Christmas and DJ shows all over the place?
It means the world to me, man. Traveling with Christmas, we've naturally become closer – that's my brother for life, man. It's a surreal feeling going across the country and even beyond and having people vibing to the stuff we're playing. That's the power of music, it's a language in itself. Good music will get love just about anywhere in the world.
For sure. That's gotta be a wild feeling seeing how far you have made it in such short time. Do you have a favorite city to perform in?
It's awesome, we're only getting started. Be on the lookout for SmashBroz – we'll be waking a lot of people up in 2017. My favorite city (besides Boston) to perform in would have to be Toronto. They always show me good love out there.
What's your best story from this past tour you did with Christmas and Warm Brew?
Best tour story? Lol, there's quite a few. Probably the best one would be the first day we got on tour. Coming from Boston, I was super excited to do a West Coast tour in the winter: perfect temporary escape from the New England weather, right? Wrong. Sadly the day after leaving LA and heading to Seattle, we ended up driving through a snowstorm in California. It's crazy because I packed a bubble jacket and Christmas was all over Snapchat clowning me for packing the jacket for a West Coast tour. Turns out, I had the last laugh.
Hahahahaha, I remember seeing that on his Snap Story. What was life like on tour going from city to city driving all day then having to perform that night? Did you adjust to it well? Goodwin said in a Fresh Out The Mint interview that the hardest part of going on tour was trying to get hyped for shows when he was exhausted.
He's right. It just becomes a grind, where it's like you're dead tired but you know you still have a show to put on that night. I adjusted pretty well. Thankfully this was my 4th tour this year so I'm pretty used to how it goes, now. The main driving force to keep me hyped up was the fact that every show was a new crowd with new potential fans whose first and sometimes final judgment of an artist is how they perform live. You don't want to let the people down that paid money to see you.
I feel you. Even if it may seem ignorant on the fan's part, it's true. What other tours did you go on this year and how did they compare to the Westside Christmas tour? Also, did Nomz go with you?
I went on a Canada mini-tour in February with Christmas and Cousin Stizz. Afterward, I went on the Bring Yo Friends tour for most of June with Christmas and my fellow Naija boy Tunji Ige. Then, I went on a fall tour with Australian EDM DJ WhatSoNot for his Divide and Conquer North American tour. Lastly, I just came off the Westside Christmas tour with Christmas and Warm Brew. They were all different in their own way, mainly due to the tour crew and everyone's different personalities. And Nomz didn't go on every tour. He didn't go on the last one with Warm Brew but he was present for other tours for spot dates.
It's been an extremely busy year for you, it seems. Did you have a lot of chances to interact with fans after the shows?
We definitely had chances to meet and interact with fans after the shows. It's dope to kick it with them, especially new fans who you may have won over that night.
Do you see yourself hosting parties and shows in different cities now that you really have a strong feeling following especially after all the tours you did this year?
Yeah, definitely. That's the next step with us, we want to build the SmashBroz brand far beyond Boston.
I feel you. Does that include furthering your clothing brand instead of just doing limited runs of different hats and t-shirts?
Yeah, it does. We're not too focused on merch quite yet. The music comes before all of that.
For sure. Who are some people you have met through touring and DJing at various events that have meant a lot to you?
I've met Metro Boomin, Mac Miller, Meek Mill, Lil Uzi Vert, Marcus Hyde, Nicki Minaj, 21 Savage, Joey Bada$$, Skepta, Kendrick Lamar, and many more. It's super inspiring to hear from people respected in the industry approving of your wave.
That's crazy. What's in your playlist these days?
A lot of Dutchboy, Big Leano, Vintage Lee, Nessly, 6lack, Nebu Kiniza, and Treez Lowkey. All of these artists are up next – remember I told you so! I've also been bumping a lot of Mr. Eazi and lowkey been listening to The-Dream a lot again recently.
I completely agree. I think Leano is probably going to blow up the quickest in Boston specifically because of his performances and his stage presence. Seeing him live is a whole other experience. Same with Vintage Lee, too.
Yeah, man, I got a good feeling about 2017 for both of them.
On tour, based on social media, it seems like your role behind the scenes is sort of the comedian of the group and in a way, the hype man as you're always dancing. Do you see yourself fitting that role and just being a "life of the party" kind of person even off the stage?
Honestly, it depends on my mood. I'm always dancing and having a good time whether I'm at home or on tour. It just seems more amplified because chances are, during tour, Christmas is always tryna record me. Off the stage, I'm all about just good vibes – it's not necessarily about being the life of the party.
I can definitely back that. You have talked on Twitter about wanting more money than fame. What are your goals in each of these areas?
Man, I'm tryna touch a couple mil, lol. You know the average millionaire has 7 sources of income, right? So essentially, just to get my hustles up. In regards to fame, I just want to be recognized for my ability. Not tryna have to deal with paparazzi, lol.
Never knew that, and it seems like you already on your way to that goal being that you have taken so many lanes to get your vibes out there and reach fans. What other ventures did you go into before you decided to be a DJ professionally during high school or college?
Honestly, I was a normal kid. I played sports growing up and played the drums. When I left high school, I thought I was just gonna go to college and study accounting and finance and get my CPA then work at a high-level accounting firm. Thankfully, I realized that my true passion is music and decided that this is where I want to focus my energy into.
Did you play drums for your school or in any bands at the time? And where do you go to college?
I go to Northeastern. I used to play drums growing up at my church, but never joined a band. Nothing made me feel like I had to do it, it just felt right. It's something I'm truly passionate about and I love. People in my family all knew my love for music, so they figured it was only a matter of time.
Definitely, and that's awesome that you got that support. Do you still play drums at all for fun?
I play them every now and then still.
How has it been balancing school and touring together? Also, do the other kids at Northeastern know that you DJ?
It's tough, man. I'm just trying to stay focused, honestly. A couple of kids know just how much I DJ, but the majority of kids don't really know because I'm rarely even on campus, lol. Most of my courses are online to accommodate my tour schedule.
I feel you. That's insanely respectable juggling that much at the same time. You gotta appreciate the hustle. Did you live on campus in previous years?
Nah, I commute.
Gotcha. Do you feel like studying accounting and having that better sense of business helps you to make better decisions financially when it comes to music?
Yes, I definitely do. Gonna keep implementing those skills as I move forward, too.
For sure. What are some pieces of advice you would give to an aspiring artist or creative? Especially one that's trying to budget their time well and juggle a few things at once like you have done with touring and going to school at the same time.
Honestly, priorities are everything. It took me a while to learn that; I'm still learning every day, too. Don't be afraid to miss out on a little bit of fun to get your shit together. If possible, try to dedicate 30 minutes out of your day to whatever your craft is. If you spend at least half an hour every day working on your craft for an entire year, you will have spent over 200 hours putting in work. Also, don't be afraid to be yourself! Winning by being you and uniquely you will feel so much better than faking the funk and acting like something you're not. Keep them vibes right.
Couldn't have said it better. I think that speaks volumes for aspiring artists, so thank you for that. On a different note, where do you find inspiration for the SuperSmashBroz merch? Is there a specific path that you want the brand to take in the future, or are you just seeing what happens as you go along?
Yeah, my brother and I have visions to take our SSB brand to a whole new level for 2017-2018. Can't reveal everything quite yet, though. Timing is everything. We're also adapting and always thinking of new ideas as we go along to potentially implement into our plans for the upcoming year.
I'm excited man you guys are doing some truly amazing stuff especially considering your age. How did the 47 brand collaboration come about to do the hats that dropped recently?
This was actually our second run of hats. We reached out to them after attending a release event for a collab they did with Christmas. They were familiar with the movement and were totally open to connect and build a good working relationship. Shoutout to 47 brand forreal, good Boston-based brand that shows good love.
That's dope, did you already know some of the employees or did the collab just come out of a random conversation that you had? And how have the hats been selling?
I didn't know any of the workers. We just spoke to them and sat in for a meeting with a plan and thankfully, they were on board. The hats have been selling like some quality gas, lol. Our first run sold out in about a week and a half. This new run is moving really fast and it's a beautiful thing to see. Shoutout to everyone supporting us and copping the hats. Your vibes are right!
As you grow more and more popular have you seen other big companies like 47 Brand contacting you and Nomz and paying attention not necessarily just for merch, but in general?
Various companies have reached out, but the big companies "hipness" really depends on who's running things. A couple labels have reached out to kind of get a feel for what songs/artists are on the rise.
I feel, that must be exciting as young artists. Do you ever see yourself actually signing with a big label or are you going to continue to do it yourself like you have been seeing that it has worked so far?
I'm not worried about a label unless I feel like I get an offer I absolutely can't refuse. Otherwise, I'm content working independently – social media makes it much easier to do so.
Which social media platform do you see the best response on in terms of gaining fans and interacting with them?
Instagram and Soundcloud.
What are your dream collaborations in terms of merch and music?
For merch, my dream collabs would probably be with Nike or Bape. Music wise would be with Andre 3000, Wizkid, Burna Boy, The-Dream, Kendrick Lamar, Travis Scott, and Pharrell.
All of which would be so wild. Do you have any events coming up?
Agreed man. Yeah I do, my brother and I are DJing a holiday party called Deck the Halls at Bijou 12/22, a PartyWitWolves event on 12/23 at Attika Club in Lawrence, and a party at the Causeway on 12/28 – that's an SSB party… After that, we're low until 2017, plotting and working.
For sure, man. How has being from the Boston area influenced inspired what you do? And how did you really get accepted into the scene? Was it just from going to different shows and people getting to know your name?
Boston influenced everything I do, man. It's just everyday life. I feel like my generation has the wave – a lot of us know each other and we're the difference makers. A lot of people are more willing to support and that keeps me going. As for the scene, I've known most of these guys before we could even call it a "scene" – Boston is pretty small. Before taking DJing serious, I knew a pretty good amount of people and people knew me. I've always come with good vibes, so I really think that was the ultimate reason I've been accepted.
I completely agree. Once the city was able to unite more than it ever had, all the creative people seemed to come together and help each other out to form the scene we see today. What do you want your legacy to be to kids looking up to you and even to other artists looking up to the energy you bring?
I'm tryna go down as a great to be quite honest. Good ain't good enough for me. I just want them to know that being yourself and being genuine about your craft can take you far. It's easy to get distracted, shit I get hella distracted often. But if you really want it, you'll make it happen. I don't fake any vibes or energy when I'm on stage or behind the booth. The vibes don't lie!
Facts, man. What has been your favorite show of all time to DJ?
That's hard… probably the Metro Boomin x 21 Savage show in NYC or my birthday party this year.
How did you get that gig? And what did you do for your birthday?
God, lol. Nah, honestly they wanted an opening DJ and someone to do 21's set so they chose us. We played a show in Cincinnati with Metro a few weeks prior and it went well, so Metro wanted us to get his vibes right again! Shoutout to my guy V-Live one time, too. For my birthday, we threw a party in an art warehouse and also dropped GYVR 3 so it went up.
There must be much more opportunities coming your way getting cosigns from names that big. What are some of your favorite Boston clothing brands that you would think about working with?
Straws, KOR, Farewell, PRLY, and Champloo.
What can we expect coming soon?
Just more vibes to come my guy. New waves, new sounds, new mixes. Lots of events. I'm excited for what's in store.
Definitely, my man. Thank you for this, I've learned a ton about you and I'm proud to say I'm very excited for the future of the SuperSmashBroz.
---
After interviewing DJ Fre$co, I was most impressed by how much he hustles and his determination. Juggling school, touring, creating, and working on a brand at the same time among other things obviously isn't easy, yet he stays positive no matter what and has no trouble seeing the end goal and seeing what can happen when his hard work pays off. His love for Boston runs deep, as it has created so many relationships that he has carried into his career today. I'm anticipating what he has on the way in 2017, and also what his energy will do for Boston and beyond in the future. Thanks again, DJ Fre$co, and keep going hard in the upcoming year. I wish you, Nomz, and your whole team the best of luck.
Follow DJ Fre$co, the SuperSmashBroz, and Nomz on Social Media:
SuperSmashBroz Twitter     SuperSmashBroz Soundcloud     SuperSmashBroz Instagram